Plans outlined for Jersey Post to have more competition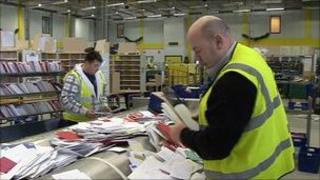 The Jersey Competition Regulatory Authority (JCRA) has outlined plans for Jersey Post to face more competition.
It has set out goals of developing a more competitive telecoms market, liberalising postal services and working more closely with Guernsey.
The JCRA has decided to grant another postal license to TNT Post UK, to ship items for the mail-order industry.
And the JCRA wants feedback on plans to make it easier to enforce current competition laws.
'Greater clarity'
Executive director John Curran said he wanted the widest possible response to the ideas.
He said: "What we're looking to do is to set out longer-term goals for... telecom, postal and general competition law.
"We're trying to give greater clarity, particularly on the regulatory side, and more generally looking at how we apply the competition law in Jersey."
Islanders are split on the way forward for Jersey Post, but, according to a recent public consultation responded to by 480 people, the majority are against removing sub-post offices.
When asked about the subject of taxpayers subsidising Jersey Post more, nearly half of those who answered did not think this was an option. Only 60% of respondents answered the question.
More than half of those who took part in the consultation were against closing sub-post offices, suggesting they should be put at parish halls or supermarkets to reduce costs.
Most of the respondents favoured three deliveries a week if they have to be cut.
The minister for economic development, Senator Alan Maclean, is convinced Jersey Post should be able to operate without help from the taxpayer.
He has argued that greater thought should be given to how postal services are delivered to country parishes, and believes a network of sub-post offices should be maintained.