Jersey politician calls for more exemptions to GST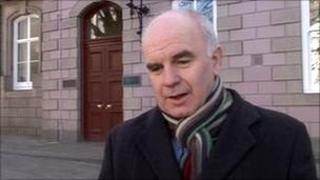 A Jersey politician said charging tax on essentials, such as food and energy used in the home, is immoral and unfair.
Deputy Andrew Green wants to make basic food items and heating exempt from the goods and services tax.
The deputy said it was wrong to charge 3% GST on food and domestic energy in the first place, but plans to raise the tax to 5% was indefensible.
He said Jersey's GST system could follow the UK's VAT regime.
Food costs more on average in Jersey than in the UK, and Deputy Green believes taxing already expensive loaves of bread, milk and vegetables was neither right nor fair.
He said raising GST was the easy option, and instead the government should look at taxing foreign-owned companies and introducing a land value tax to reduce its budget deficit.
The deputy said that if GST on food and heating was scrapped, less public money would be needed to pay income support and the food costs bonus.
He said: "I think I would be looking at those foods which are much more healthy, fruit and vegetables and such like, and not charge GST on those.
"But we would charge GST on biscuits, high-fat products and all the rest of it.
"For many years [the UK] have defined and developed their definition of food and have their list, we could just use that list, it works in the UK so why not here."