Guernsey and Jersey seek money saving links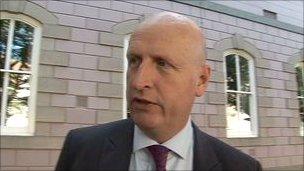 The governments of Jersey and Guernsey are discussing how the islands could work together to save money.
The politicians who oversee States spending in Guernsey are visiting Jersey.
Specialist health provision, paying benefits and collecting taxes are some of the areas it is suggested they could work together on.
Jersey's public accounts committee went to Guernsey in June and now the visit is being reciprocated.
The chairman of the Jersey committee, Senator Ben Shenton, said while Guernsey and Jersey were rivals in financial services there was no reason they could not work together in other areas.
They have asked Jersey's Comptroller and Auditor General to draw up data comparing public services in both islands.
Senator Shenton said it would allow them to accurately assess the performance of each island at many levels.
Related Internet Links
The BBC is not responsible for the content of external sites.