Carer was 'hurt' by Haute de la Garenne assault claims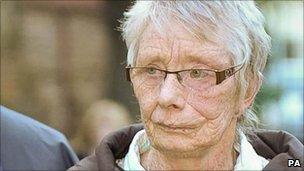 A former house parent at the Jersey children's home Haut de la Garenne said claims that she assaulted children in her care were "hurtful".
Morag Jordan, who worked at the home from 1970 to 1984, is accused of 29 counts of common assault involving nine children aged from one to 17.
The 62-year-old, from Kirriemuir in Angus, denies all the charges.
She told the Royal Court she left the home thinking she had done the job to the best of her ability
"I was strict but I wasn't a violent bully," she said.
Mrs Jordan and her husband, Anthony, are jointly charged with a total of 41 counts of abuse at the home.
Mr Jordan, also 62 and from Kirriemuir, faces 12 counts of common assault on nine children aged between one and 17.
Giving evidence, Mrs Jordan said she only gave children a light smack as discipline and that any other action had to be decided by senior staff.
Mrs Jordan denied that while working there she abused nine of her young charges.
She told the court she thoroughly enjoyed her time at the home and liked all the children.
In court Crown Advocate Stephen Baker told Mrs Jordan "you had the opportunity if you wanted to to assault these children".
She rejected the accusation that she had "behaved as a bully to those children".
Mrs Jordan is alleged to have forced soap into children's mouths, pushed their faces into urine and hit them with a wooden spoon.
Related Internet Links
The BBC is not responsible for the content of external sites.