Minister calls for compulsory carbon monoxide alarms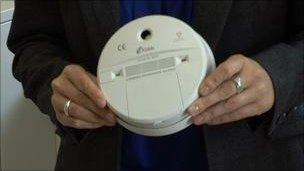 Carbon monoxide alarms could be fitted in homes in Jersey whenever combustion appliances are installed.
Changes to the island's building by-laws could be made to make it a requirement.
The alarms would be installed every time appliances such as solid fuel fires, wood burning stoves and central heating boilers are newly installed in a home.
The changes are being proposed by the minister for planning and environment.
Senator Freddie Cohen said he is confident this change will result in a cost effective improvement that will reduce the risk of carbon monoxide poisoning from poorly maintained combustion appliances.
The department's assistant director, Morris Roscouet, said that recent studies of commonly available brands of carbon monoxide detectors have shown these to be very effective at detecting faults.
He said they would provide a safeguard against defective appliances.
The minister is inviting comments from people with an interest.
Related Internet Links
The BBC is not responsible for the content of external sites.