Jersey will get broadband up to 20mb from December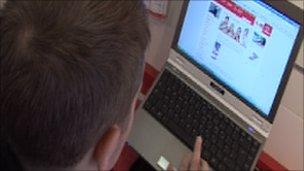 An upgrade to Jersey Telecoms network could see the speed of broadband more than double for a quarter of homes in the island.
The current highest speed available is 8mb but it is expected 25% of homes will be able to get the new 20mb rate from December.
It is hoped the faster speeds will become more widely available by 2012.
Customers of Jersey's other broadband operators, Sure and Newtel, will also be able to get the higher speeds.
Prices are expected to be announced in the next few weeks.
The speed increase is part of an £11m development of a 'next generation network' by the government owned telecom company.
Jersey Telecom are replacing their current copper network with fibre, which is capable of carrying more data at higher speeds.
This is part of the 'Gigabit Isles' programme that Jersey Telecom hope will bring "the world's fastest internet access to islanders".
Graeme Millar CEO of the Jersey Telecom Group said: "Islanders will be hearing more and more of this type of announcement in the coming months, as the considerable investment which JTG has made in the Island's infrastructure is realised.
"By 2012 more than half of local households will be able to achieve between 15 and 20Mb speeds.
"In terms of core network technology, our ongoing investment will put the Jersey between ten and fifteen years ahead of the UK by 2012."
Related Internet Links
The BBC is not responsible for the content of external sites.