Jersey taxi marshal scheme to be reduced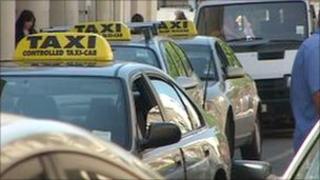 A scheme set up to monitor the weighbridge taxi rank in St Helier at weekends is to be scaled down.
Jersey's taxi marshal scheme was set up three years ago to help deter trouble after pubs and clubs close on Friday and Saturday nights.
There will now only be marshals at the rank on Saturday nights after organisers had trouble securing funding to cover both days.
It costs about £20,000 a year and was funded through an advertising scheme.
The Safer St Helier Community Partnership said hard financial times have meant that money is no longer available.
In the lead up to Christmas and New Year they will start working on Fridays again.
Colin Russel from the Partnership said they are trying to find money from other sources.
He said: "If we had one sponsor then obviously £20,000 would cover it for the year but we would be willing to accept any amounts of money that come in.
"We are looking at various avenues of raising revenue and we are talking to two other advertising agencies at the moment to take over advertising inside the taxis."