Sir John McColl named as Jersey's Lieutenant Governor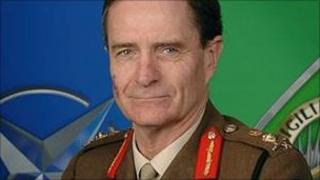 Jersey's new Lieutenant Governor has been announced as Sir John McColl.
He will take over from the present incumbent, Lieutenant-General Andrew Ridgway, whose five-year term comes to an end in 2011.
The Bailiff of Jersey, Michael Birt, said Sir John would take over and move into Government House with his wife from September 2011.
He is currently deputy supreme allied commander in Europe, a post he has held since 2007.
He said: "It is a huge honour to be selected as the next Lieutenant Governor of Jersey.
"Both Gene and I are delighted with the news and very much look forward to joining the Island community in September next year."
'Highly distinguished'
Mr Birt said he was delighted with the appointment.
He said: "He has had a highly distinguished military carer which will place him in good stead to fulfil his new role.
"He can be assured that both he and Lady McColl will receive a very warm welcome from the island when they arrive."
The appointment of a new Lieutenant Governor is made by Her Majesty The Queen as he is her personal representative in Jersey.
Sir John was selected by a panel chaired by Jersey's Bailiff and made up of a senior Jurat and a member of the Jersey Appointments Commission.