Team Jersey delays flight to Commonwealth Games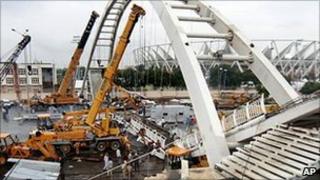 Jersey's Commonwealth Games squad is delaying its departure to the Delhi competition amid concerns about security issues and teams' accommodation.
The squad had been due to travel on Thursday, but will travel now on Tuesday.
The extra time in the island will be spent training.
Managers said the decision had been made in the interests of the health, safety and security of the squad.
Several countries have complained about the accommodation, with some claiming it is "unfit for human habitation".
The collapse of a pedestrian bridge near the main stadium injured at least 23 people on Tuesday.
Scotland, Wales and England have cast doubt on their participation.
Alan Cross, Secretary General of the Jersey Commonwealth Games Association, said: "Team Jersey are still very committed to taking a full and active part in the Games.
"We trust that the Delhi Games organising committee's recent problems in the lead-in to the Games will not detract from the success of this multi-sports event."