Drivers' warning over road conditions after collisions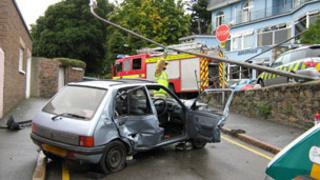 A warning has been issued to drivers following a number of road collisions in Jersey on Saturday.
In St Helier the driver of a Peugeot 205 had to be cut free when his car crashed through safety barriers and into a street lamp on New St John's Road.
He was taken to hospital, but his injuries are not thought to be serious
The fire service said extra care was needed when driving on wet roads, especially after prolonged dry spells.
A statement from Jersey Fire and Rescue Service described road conditions in Jersey as "tricky".
Police are investigating the cause of the accident in St Helier.