St Clement in Jersey twins with Brittany town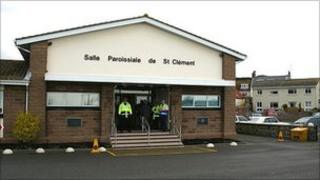 The parish of St Clement has officially agreed to twin with Cancale in Brittany
St Clement was previously the only parish in Jersey not twinned with a town in France.
It is also now the only parish to have twinned with a town in Brittany and not Normandy.
St Clement's Constable, Len Norman, signed the twinning agreement with Mayor of Cancale, Pierre Yves Mahieu on 8 September.
When the suggestion of twinning with Cancale was first proposed there was unanimous approval at meetings in both places.
The official signing was held at St Clement's Parish Hall on Wednesday after the annual meeting between Jersey and the department of Ille et Vilaine.
Constable Norman said: "I am delighted that we have formalised the decision made by our assemblies last year. This is the first time a Jersey parish has twinned with a town in Brittany and I hope it will not be the last."
The twinning agreement will see closer links set up between sports associations and schools in St Clement and Cancale.
Constable Norman also hopes it will "help professionals develop economic and tourism initiatives".