Jersey Live organisers apologise for queuing problems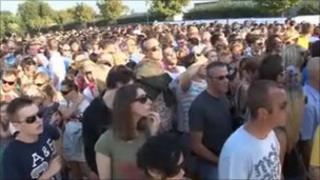 Jersey Live festival organisers have apologised to people who had to queue for a long time at the event.
They said the queues happened because of the volume of people arriving on site within a short period of time.
The entrance to the site was designed to cope with up to 1,500 people per hour but the volume was far greater and "overwhelmed" planning.
Festival organiser Warren Holt said: "Once inside the event the feedback from everyone has been tremendous."
The two-day festival, headlined by Paul Weller and Groove Armada, sold out for the first time since increasing capacity to 10,000.
Organisers said that the safety of the public was not put at risk and that when the crowds started overwhelming the entry system people were let in without being given wristbands.
Mr Holt told BBC News that the arrangements would be "refined" for next year.
There were no queuing problems on Sunday.