Thousands of revellers enjoy Jersey Live music festival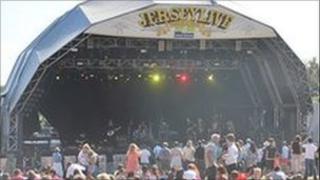 Thousands of people have flocked to the Royal Jersey showground in Trinity to enjoy the second day of the annual Jersey Live Festival of Music.
The event, which last year saw crowds of more than 9,000 revellers, has been held at the showground since 2004.
This year's line up includes Kate Nash and Paul Weller who are both set to perform on the main stage.
Road closures and restrictions have been set up and traffic is being diverted through the lanes.