Funeral records made public by Jersey Heritage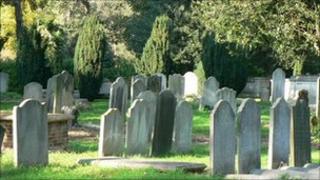 Funeral records dating back nearly two centuries have been made public in Jersey.
They include deaths from diseases and accidents and the passing of notable citizens in Jersey.
Jersey Heritage said the records gave an insight into the island's social history.
Half the burials conducted by one funeral director in September 1849 were as a result of a cholera epidemic, records showed.
Senior archivist Simon Nicolle said they had been "diligently" documented by some of the earliest funeral directors.
Bailiff's cortege
He said: "There's an interesting one from 1857 that makes a little aside that he's about the largest man in Jersey."
"It says 'coffin - extra size, depth and strength needed' - these are the things that would be lost over time.
"The fact that these funeral directors diligently wrote these extra details in means you get a great deal more information."
Records from 1884 show when the Bailiff of Jersey, Sir Robert Pipon Marett, died, his funeral included 51 vehicles and his pallbearers included the Lieutenant Governor, the Viscount and Attorney General.
Some entries include the cause of death, such as Philip Le Sueur, the Seigneur of Vinchelez, who was killed at his manor when a stone fell on him while he was trimming ivy.