London's 'Boris Bikes' earmarked for Jersey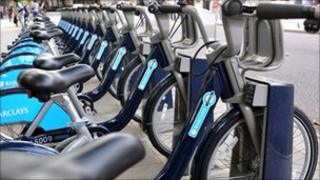 Some highly populated areas of Jersey have been earmarked for a bicycle scheme similar to one operating in the UK.
The States has been looking at London's first large-scale public bike hire scheme - nicknamed "Boris Bikes" after Mayor of London Boris Johnson.
Transport Minister Mike Jackson said the plans were in the "early stages".
"We have to make land available, which is never easy in Jersey," he told BBC News.
"Main areas of habitation, including St Helier, St Saviour and St Aubin would be "ideal spots", the minister added.
All day availability
Since its launch at the end of July, nearly 70,000 people have signed up to the London scheme, which is aimed at reducing traffic congestion.
People registered with the Barclays-sponsored scheme have a key which allows them to take a bike from one of about 400 docking stations across the city and return it to any other when they have finished with it.
The bikes are available 24 hours a day and hire costs vary from £1 for an hour to £45 for annual membership of the scheme.
Similar schemes already operate in France and Spain.