Extra services on Connex Jersey's winter bus timetable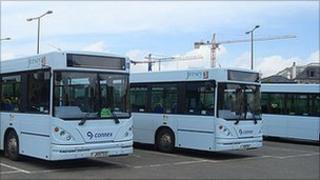 Bus services are to be expanded in Jersey this winter.
The timetable, which will be introduced by Connex in October, will include an early bus to Jersey Airport in time for the first flights.
A new Sunday service will operate to St Lawrence, St Mary, St John, La Hougue Bie, St Saviour's Hospital and Faldouet.
There will also be additional buses on the number 15 route in the evenings between St Helier and St Peter.
The States Transport and Technical Services Department said the extra services should encourage more people to take the bus.
Transport Minister Mike Jackson said it was a step towards providing a consistent year-round bus network in Jersey.
He has invited islanders' opinions on the proposed changes.