Study of Jersey's Polish and Portuguese migrant workers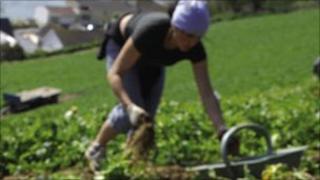 Portuguese immigrants are more likely to find work in Jersey without a good understanding of English than Polish people, according to research.
The study was carried out by the University of Southampton.
Because of the number of Portuguese shops and cafes that serve the community in Jersey, speaking English was not seen as very important.
However, the report found Polish immigrants were more likely to take courses to improve their English.
This should, in turn, better their employment and living standards in Jersey.
The study, funded by the EU, cited examples of Portuguese immigrants in Jersey who began as farm workers but were able to become successful business-owners without learning very much of the language.
'High turnover'
According to the States statistics unit there were 5,500 people in Jersey last year who were either born in Portugal or Madeira.
Chief statistician Duncan Gibaut said subsequent social security figures show this has remained constant.
With regard to Polish migrants, Mr Gibaut said there were between 3,000 and 4,000 Poles living in Jersey at any one time, but with quite a high turnover of individuals.
Jersey's population in 2009 was 92,500.
Researchers at the university also examined migrant communities in Croatia, Austria, Southampton and the Czech Republic.