Heavy rain blows Jersey manhole cover and damages road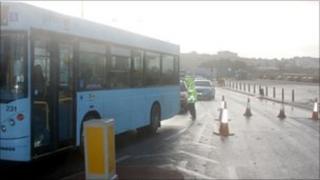 Heavy rain in Jersey has caused damage to a section of one of the main roads in St Helier.
The sheer volume of water that fell on Thursday afternoon blew a manhole cover in Victoria Avenue, taking some of the road with it.
Transport and technical services said it had a team on site to repair the damage.
Motorists have been advised that there is currently only one lane of the road open to cars travelling east.
It is hope the work can be completed to allow the road to be fully reopened later.