Jersey vintage cars featured on island stamps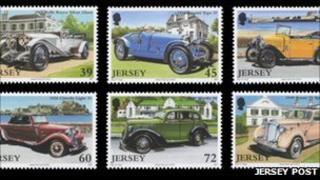 Jersey Post has released a set of stamps with vintage cars printed on them.
The stamps are the fourth set in the series, the first of which were issued in 1989.
The cars have been painted by stamp artist Alan Copp, with each of the vehicles having been locally owned.
Susanne Lowman from Jersey Post said: "Each vehicle needed to have great visual appeal so that they come to life on the stamp itself."
A 1912 Rolls Royce Silver Ghost, a 1926 Bugatti type 37 and a 1933 Austin 7 are all featured on the latest stamps.