Artificial reef proposed as 'new habitat' in Ramsey marina plan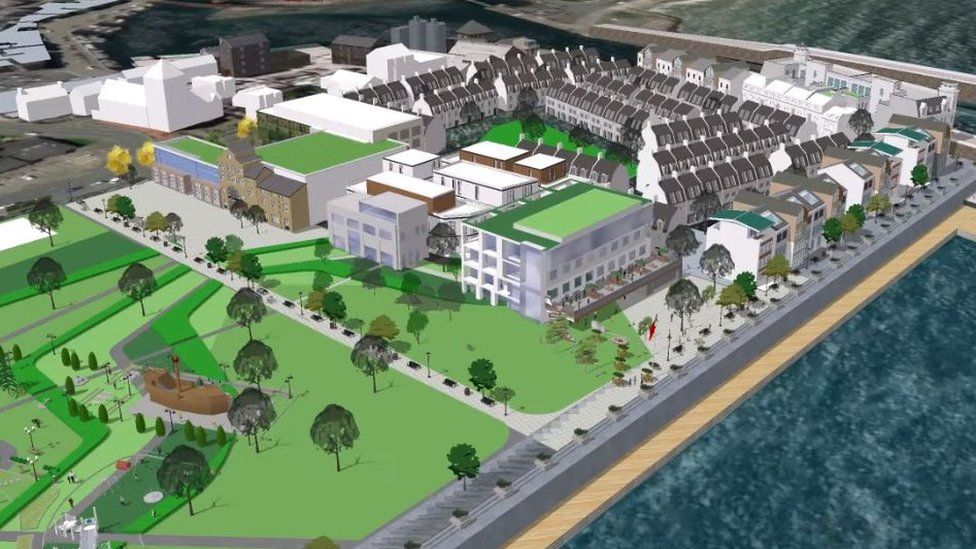 Building an artificial reef along a proposed £100m yacht marina on the Isle of Man will "create a new habitat" for marine life, developers have said.
The reef has been included to ensure the scheme "is as ecologically sensitive as possible", the firm said.
The Manx Wildlife Trust has previously opposed the plan because of its impact on the environment.
Developers said work on the 400-berth marina, 200 town houses and apartments, a five-star hotel, shops, bars and restaurants and new breakwater would start "within the next two years".
However, the firm's proposal, first outlined in 2019 and delayed by Covid and community opposition, is yet to be submitted to planners.
Director Robin Bromley-Martin said the artificial reef was needed as part of preparations for an environmental impact assessment, which would be included in the application.
The artificial reef will be designed by UK green technology firm CCell Renewables, which is currently trialling the technology in Douglas Harbour.
Company founder Will Bateman said it would be placed at the base of the breakwater to give the marina walls scour protection and "enhance the quality of the local marine eco-system".
The reef would be made using a steel frame fitted with solar-powered electronics that "can extract sea water minerals to encourage the growth of mineral rock", a spokeswoman for the firm said.
Mr Bromley-Martin said using it as part of the marina plans would be "proof of concept for the technology on the Isle of Man".
"Given the issues that the island is facing with climate change and rising sea levels, it is hugely relevant to other parts of the island," he added.
Related Internet Links
The BBC is not responsible for the content of external sites.