Fears grow for Isle of Man trapped seal tangled in fishing net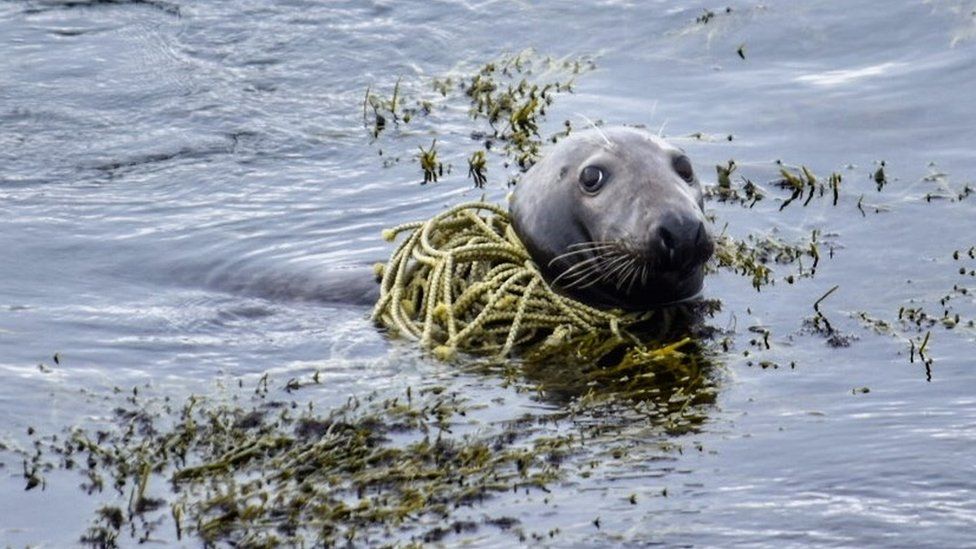 Concerns are continuing for a seal spotted in distress after becoming tangled in fishing net off the southern coast of the Isle of Man.
Any attempt to help free the animal however would be too risky, a conservation charity has said.
The Manx Wildlife Trust was responding after the mammal was first spotted at the end of last week.
Marine officer Lara Howe said access to the seal was difficult due to the location at the Sound and the tides.
The charity said it was monitoring the situation in case something could be done to help it.
Dr Howe said: "When they are disturbed they do the safest thing for them, which is to go into the water.
"There's the potential for injury to themselves, from minor scratches to taking a nose dive from a steep rock into the water."
Dr Howe said an added complication was seal pup season, meaning heavily pregnant seals were likely to be around, which could hamper rescue attempts.
"They have very sharp teeth and their mouths are full of bacteria. Should you get bitten you'd get terrible infections," she said.
Capturing the animal safely would require specialist training and expertise, Dr Howe added.
"It's possible but it's very difficult. There's risk to people, to the seals and we could make the situation worse", she said.
Dr Howe said the situation had highlighted the issue of marine litter on the island.
"As awful as it is to see this seal in distress in this way, this seal should never have been in this situation", she said.
"It's down to our mistakes and our errors, and we should take responsibility for that and do something about it."
It is hoped the seal may move to a more accessible location.
Related Internet Links
The BBC is not responsible for the content of external sites.