Isle of Manx election: Housing a key issue at Rushen election meeting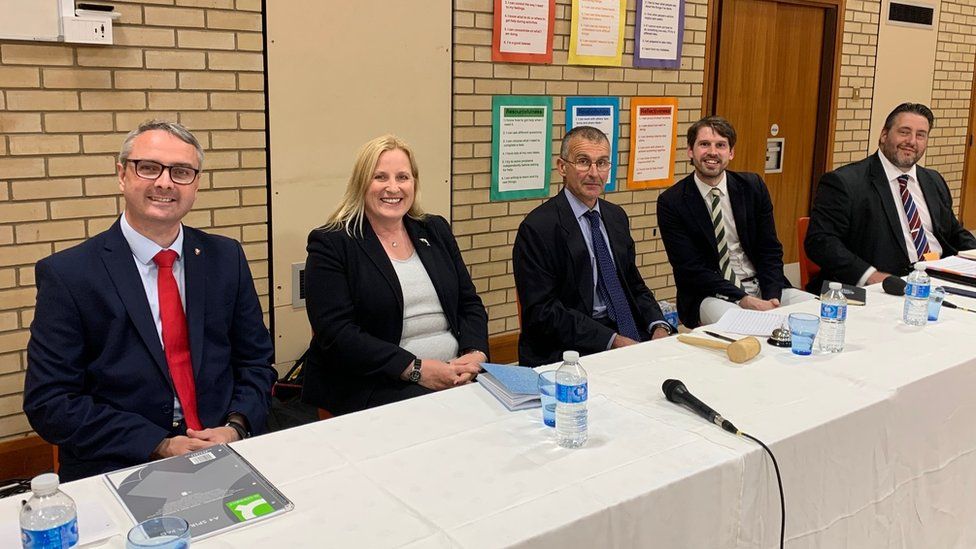 Candidates standing in Rushen have discussed a range of issues at a public meeting ahead of the upcoming House of Keys general election.
Michelle Haywood, Mark Kemp, Andrew Langan-Newton and Juan Watterson are contesting the two seats available in the constituency in the poll.
The availability of housing was brought to the fore by a voter during the meeting held at Rushen Primary School.
They discussed empty properties, energy efficiency, and first-time buyers.
Michelle Haywood (independent) said the island had "failed to push" local authority housing into "modern standards in terms of the insulation and energy generation".
She continued: "For those people who fall into the means test for that housing a low energy bill would be one of the biggest things that we could do to help lift them out of fuel property and to support them."
She also said the island's planning rules should be changed to make it easier to "repurpose" office space left empty by businesses moving to a work-from-home policy into housing.
Mark Kemp (independent) said "institutional investors that buy up swathes of houses" to rent out should face taxes and restrictions.
"For me the solution is to force them to form a company, which will be taxed, and it's only one company per beneficial owner. That way we can nip that particular issue in the bud hopefully," he said.
He also said prefabricated energy efficient homes could be built at a relatively low cost to "get people on the ladder quicker".
He called for measure to be put in place to "force" or "incentivise" overseas property owners to put the existing homes back into the housing market, rather than developers building new homes on green field sites.
The onus should be on developers to create energy efficient homes rather than the purchaser, he added.
"We don't have enough houses on this island for people to downsize into, so it's not just about the first time buyers, it's also about people looking to move out of family homes, to downsize into good quality properties," he said.
Those who "want to commit and invest in our economy, and live and work here" should not be disenfranchised by new builds being bought as rental property investments, he added.
The living wage, child mental health and climate change were among other subjects raised at the two-hour meeting.
The two seats in Rushen have been held by Laurence Skelly, who elected President of Tynwald in July, and Juan Watterson for the past five years.
Polls will be open between 08:00 and 20:00 BST on 23 September.
Read more about the Isle of Man election:
BBC Isle of Man will be featuring all 12 of the constituencies for the House of Keys in the forthcoming general election during the run up to the poll on 23 September.
Related Internet Links
The BBC is not responsible for the content of external sites.