Douglas oval roundabouts 'a disaster waiting to happen'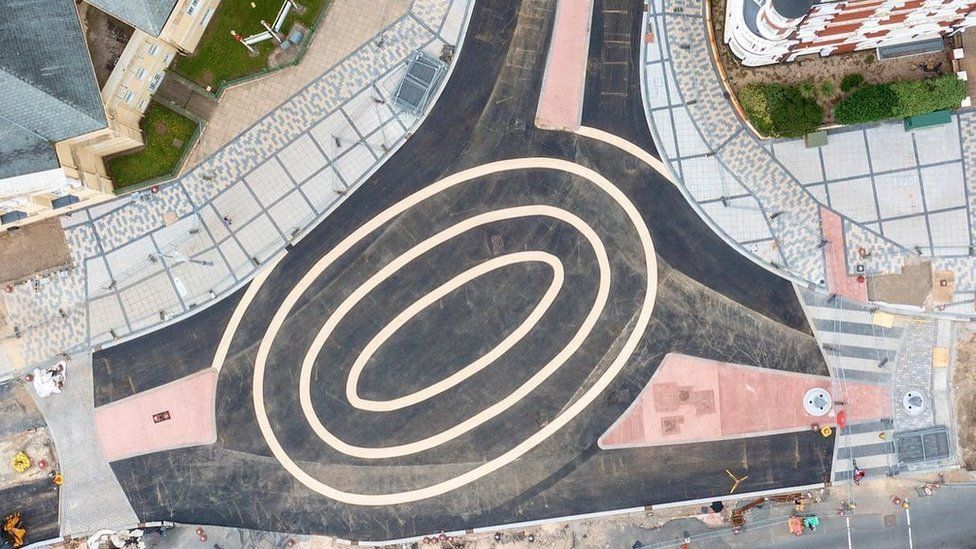 A new oval roundabout being installed on the Isle of Man has been called a "joke" and a "hideous eyesore".
The "roundel" is one of two being put in place as part of the Department of Infrastructure's (DOI) refurbishment of Douglas Promenade.
A DOI Facebook post about the scheme saw them roundly criticised, with one user calling them "a disaster waiting to happen".
DOI Minister Tim Baker said motorists would "soon get used to them".
The roundabouts, which will form the junctions with Broadway and Church Road Marina, were initially due to be made from paving in keeping with the rest of the scheme.
However, the areas are being given road surfacing to speed up the completion of the carriage refurbishment.
Responding to the post about the rounabouts, one user said they "genuinely thought the pictures were a joke", while another called for the department to "just hold your hands up and admit you've made a mistake".
Others questioned the safety of the scheme, branding it "a disaster waiting to happen", before adding: "Just install actual proper roundabouts, like any normal place would."
A DOI spokesman said the "traffic-calming" design had been in the scheme since it received planning approval and they should be "driven in the same way as any other roundabout".
He added that clear road markings would be in place when the road fully reopens to traffic on 15 July.
Mr Baker MHK said roundels were "part of modern highway design, having been used in the UK for a number of years".
"I feel, once the overall area is complete, motorists will soon get used to them," he added.
The £26m promenade revamp, which was originally due to be completed by October 2020, has been hit by a series of delays and the main phase of the scheme is now not expected to be finished until August.
Related Internet Links
The BBC is not responsible for the content of external sites.