Poet with Parkinson's persuades prominent people to pose for calendar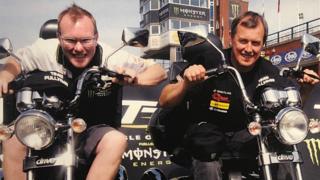 A poet with Parkinson's has persuaded a plethora of prominent people to pose for a picture on his mobility scooter.
TT star John McGuinness, the Bishop of Sodor and Man and the island's chief minister have all been shot for Michael "Pullyman" Cowin's charity calendar.
The 78-year-old, who pens poetry to stay alert, said everyone invited to take part "did so without hesitation".
Chief minister Howard Quayle, who appears with his dog Bessie, said he was "delighted" to help.
Mr Cowin, who will sell the calendars in aid of the Isle of Man Parkinson's Disease Society and the Alzheimer's Society, worked with photographers Mike Wade and Paul Dougherty to capture the images.
"We had an idea, we had a reason and I had a phone book," he said.
"All the 'victims' were photographed on my mobility scooter and everyone invited to take part did so without hesitation."
The Speaker of the House of Keys, Juan Watterson MHK, who was photographed in his ceremonial robes said there were not "many people who you can trust with your reputation, but Michael is one of them".
"His work stands out and I really hope people support the project," he added.
Cycling coach Dot Tilbury, who appears with close friend and stuntman Derry Kissack, said the pair were "both great friends and admirers of Michael and his work".
"We were only too proud to take part and throw ourselves into it."