Sophia Goulden statue 'to be made less aggressive'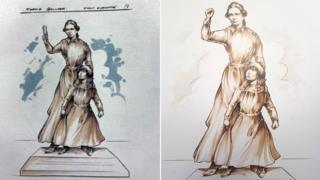 The design for what could become the first statue of a Manx woman on the Isle of Man has been altered to make it "less aggressive", the artist has said.
Original designs depicted suffragist Sophia Goulden with her arm raised and fist clenched alongside her suffragette daughter Emmeline Pankhurst.
Sculptor Sean Hedges-Quinn said the statue would now hold a speech, to reflect Goulden's campaign work.
Queen Victoria's statue is currently the island's only female sculpture.
However, there are 10 statues of famous men around the island.
Mr Hedges-Quinn, who has previously produced statues of suffragette Alice Hawkins and film star Dame Gracie Fields, said the clenched first "was considered by some to be more representative of some kind of salute".
But he conceded the fist motif "was a bit too aggressive and militant".
The Friends of Sophia Goulden charity are raising money to finance the statue, which they described as "hugely significant for the Isle of Man".
The piece remains £70,000 short of its target, and the group is continuing to encourage people to back the fundraising push.
If funding is secured, the statue would take about six months to make before going on display near Goulden's former home in Laxey.
In 1881, following a campaign which Mrs Goulden was part of, Tynwald became the first national parliament to give some women the right to vote in a general election.
Friends of Sophia Goulden's Christine Cowley said: "Her actions led the way in giving women the right to vote - and the Isle of Man was first in the world top do so."
Inspired by her mother, Mrs Pankhurst went on to lead the suffragette movement which helped win women the right to vote in the UK.