Firefighters tackle Peel fishing boat blaze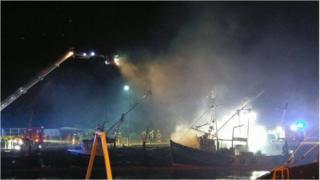 A fire broke out in a fishing boat off the Isle of Man, prompting a warning for people to avoid the area.
Firefighters found the "well-developed blaze" in the 12m (40ft) vessel's cabin when they were called to the West Quay in Peel at 23:30 BST on Tuesday.
A spokesman said the fire was successfully extinguished.
Station officer Roger Brown urged people to avoid the port, adding: "It is still a live incident and access inside the vessel is impossible."
Mr Brown said foam was used to fight the flames, and the fire service was working with the Department of Environment, Food and Agriculture to "contain and carry out environmental protection measures".
He added: "Damage has been confined to the vessel's internal spaces."
The cause of the fire remains unknown and an investigation has been launched.
Former firefighter Justin McMullin, who witnessed the blaze, said: "There was a lot of smoke and flashing blue lights with fire-fighters battling the fire from both sides."