Belfast balloon release 'horrendous' say marine experts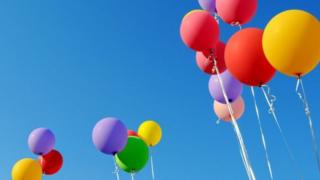 A balloon release in Northern Ireland could have a "horrendous" impact on marine life, said an Isle of Man wildlife trust.
Hundreds of balloons were launched from Belfast on Sunday by a charity commemorating infant deaths.
Balloons do not degrade and posed a risk to wildlife "for decades to come", said Manx Wildlife Trust (MWT).
Belfast City Council said a voluntary ban on balloon releases from its properties would be reviewed.
The release during 'Baby Loss Awareness Week' was the latest by charity Life After Loss to allow bereaved families the chance to commemorate the brief lives of their babies.
'Upsetting and distressing'
Organiser Helen Savage: "This has been an extremely upsetting and distressing time for the families we support who have lost a child".
But MWT's Graham Makepeace-Warne said releasing balloons as a way of marking such events should not be allowed.
"How is it acceptable to simply send all that plastic into the air with no concern for where it ends up or the animals it impacts on?
'Tangle and choke'
"The balloon itself can be mistaken for jellyfish and eaten, the string can tangle and choke and the plastic valve used to keep the helium in is also a danger."
In July, Tynwald unanimously backed a ban on all balloon releases from government events as part of a crackdown on single-use plastics.
Diving expert Rosemary Lunn has been campaigning for a total UK ban on all balloon and sky lantern releases.
"Blue Planet 2 has amply demonstrated that we have a plastic issue and by releasing balloons we are adding to this.
"The charity should take the stance that it is no longer environmentally-acceptable to conduct a balloon release."
The balloons were released from Malone House, a property owned and managed by Belfast City Council, despite its own voluntary ban.
A council spokesman said it actively encouraged organisations to refrain from releasing balloons but said it had no enforcement powers.
MWT marine officer Lara Howe said there were "other ways to remember lost ones" such as native seed releases and tree-planting.
Mrs Lunn added: "Infant mortality is a horrendous, life-changing event and I would not wish this on any parent but this does not give anyone a licence to go out and wantonly litter."