Postal workers vote for strike ballot over 'horrific' cuts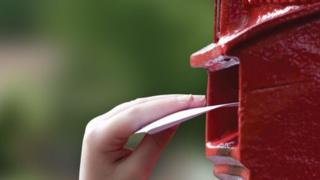 Isle of Man postal workers have voted to ballot for industrial action, the Communication Workers' Union said.
The union's Terry Pullinger said the unanimous decision was made following the most "horrific" cuts to service and conditions he had ever seen.
The Isle of Man Post Office said it was set to report a loss for the first time in its 45-year history due to "change in demand and increasing costs".
A consultation into the future of Manx postal services will close on Tuesday.
Mr Pullinger said: "Isle of Man postal workers have shown great dignity and self-respect by voting unanimously to ballot for industrial action in defence of themselves and a great public service.
"The board know the price of everything but the value of nothing and I am very proud of these workers," he added.
The IoMPO said it was "disappointed" but remained committed to working with the unions in the development and the delivery of its strategy.
A spokeswoman said: "The online digital revolution is changing the way people communicate and how and where they choose to buy their goods and pay for services.
"These changes are impacting the postal industry globally as fewer letters are being sent, and fewer people are using post offices than ever before."
"The cost of our pension scheme is also increasing and is not sustainable in its current form."
The Isle of Man Post Office was established in 1973 and contributes almost £17m to the Manx economy annually in the form of salaries, spend with local suppliers, tax, VAT and capital investment.
So far, more than 2,000 people have had their say on the consultation which outlines a proposed five-year strategy.
It also proposes a number of cost-saving ideas which include reducing collections, cutting the number of sub-post offices and reducing opening hours.