Sophia Goulden: Design of first statue of Manx woman revealed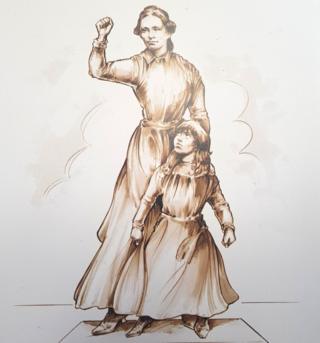 The design of what could become the first statue of a Manx woman on the Isle of Man has been revealed.
The "hugely significant" piece, which remains £70,000 short of its funding target, depicts suffragist Sophia Goulden and her suffragette daughter Emmeline Pankhurst, its backers said.
The work's sculptor Sean Hedges-Quinn said it "would be a real landmark".
A statue of Queen Victoria in Douglas is currently the only sculpture of a woman on the island.
The Suffolk-based artist has previously produced statues of suffragette Alice Hawkins, film star Dame Gracie Fields and former England manager Sir Bobby Robson.
He said he hoped islanders would take the work "to their hearts and help with the funding as their achievements had influence all over the world".
In 1881, following a campaign which Mrs Goulden was part of, Tynwald became the first national parliament to give some women the right to vote in a general election.
Inspired by her mother, Mrs Pankhurst went on to lead the suffragette movement which helped win women the right to vote in the UK.
The Friends of Sophia Goulden's Christine Cowley said it was "hugely significant" on many levels.
"There are more than 10 statues of famous men on the Isle of Man, but... there are none of Manx women," she said.
"Sophia came from and returned to the Isle of Man and she brought her daughters up to fight for women's rights.
"Her actions led the way in giving women the right to vote - and the Isle of Man was first in the world top do so.
She added that if the remaining funding was raised, the statue would take about six months to make before going on display near Sophia Goulden's home in Laxey.
A blue plaque celebrating the suffragist's achievements was recently unveiled in Douglas.