Queenies crowned Isle of Man's national dish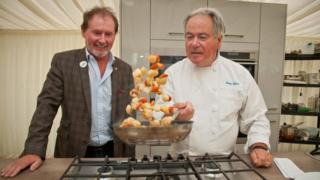 "Queenies" - or queen scallops - have been crowned the Manx national dish ahead of kippers or chips, cheese and gravy.
The seafood delicacy was confirmed as the food that best symbolises Manx cuisine at the annual Isle of Man Food and Drink Festival.
The Manx queenie is "intrinsically linked to Manx culture", said fisheries expert Tim Croft.
The dish won a public vote with cheese, chips and gravy in second place.
The queen scallop is an edible mollusc which can grow up to 9cm (3.5in) in diameter and is found at depths of 100m (330ft).
In 2012, Isle of Man queenies were awarded the European Union Protected Designation of Origin (PDO) stamp.
It meant they joined foods such as Gorgonzola and Champagne, which can only be labelled as such if they come from the designated region.
Their main strength is their versatility, said Island Seafare Director Tim Croft.
"They're universally popular from local tables to the world's top restaurants. They must be to beat cheese, chips and gravy - that's some dish!"
Earlier this year, an online magazine called for chips, cheese & gravy to be recognised as the island's favourite dish, proposing a national day to celebrate it.
A record 10,000 people attended the two-day festival at the Villa Marina in Douglas - which is the biggest annual showcase of Isle of Man food and drink.
More than 2,500 people took part in the poll to find the island's national dish with more than 500 voting for the winner. The runner-up received more than 400 votes.
The Isle of Man's traditional national dish is priddhas an' herrin - a meal of boiled potatoes and steamed herring.