Call for Isle of Man to change Syria refugee stance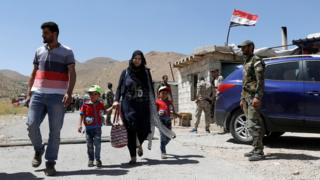 The Isle of Man should reconsider its stance on offering Syrian refugees a home, an MHK has said.
In 2017, Chief Minister Howard Quayle refused a call to take refugees and said the government could "offer more effective support" by providing funds to help the UN mission in the country.
Garff MHK Daphne Caine will table a Tynwald question later, asking for that decision to be reconsidered.
She will also ask how much support had been given to charities in Syria.
Mrs Caine told the Local Democracy Reporter Service that the island needed to "step up on the world stage and do its part".
She said the island had a "history of being very welcoming to all people" and any refugees would "benefit the Isle of Man in so many ways".
"This is an unresolved issue. The Isle of Man gave a very generous donation, but I would hope that it could be reconsidered, and where there's a will, there's a way," she added.
Since committing to help those displaced by the Syria conflict in 2014, the UK's Syrian Vulnerable Persons Resettlement Scheme has resettled over 11,000 refugees and plans to help a further 9,000 by 2020.
In February 2017, a petition signed by more than 1,000 people called for the island to take its "fair share" and help up to 25 refugees.
However, Mr Quayle said no refugees would be taken. Instead, he pledged £973,000 to help "provide life-saving humanitarian aid".
He added that the Council of Ministers believed the Isle of Man could offer "more effective support to a greater number of people by directing funds to the UN High Commission for Refugees".