Isle of Man Green Party elects first councillor Andrew Bentley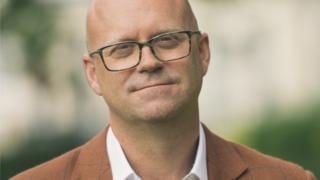 The Isle of Man Green Party is celebrating its first success in a Manx election.
The party's founding member Andrew Bentley, a local architect, was voted in to serve as councillor for the Derby ward of the Borough of Douglas.
Mr Bentley received 42% of the vote in Thursday's poll - 52 votes ahead of his nearest challenger Amanda Walker.
He said: "We have a wonderful opportunity to make Douglas the capital we want it to be."
Mr Bentley continued: "I'm delighted. I want to make Douglas a capital the whole island can be proud of".
Party leader Andrew Newton added: "It is the next step along the Green Party's strategic plan for a sustainable future for the Isle of Man.
"Andrew's effort and commitment to the party over the last two years are commendable.
"We're pleased he has been so well received in his first election."
Mr Bentley will hold the position until 2020.