First Isle of Man hosepipe ban in 15 years comes into force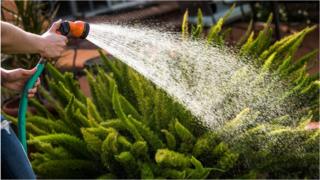 The Isle of Man's first hosepipe ban in 15 years has come into force.
Manx Utilities said reservoirs had fallen by up to 42% after a "once in 20-year heat wave". A further three months of dry weather is forecast.
Those caught flouting the ban, for example in order to wash cars or water gardens, could be fined up to £1,000.
The first hosepipe ban of the summer in England - potentially affecting seven million in the North West - was called off on Thursday after modest rainfall.
Following the driest and hottest May, June and July on record since 1989, the Manx Met Office said there was unlikely to be enough rain in coming months to top up reservoirs.
'Hosepipe police'
In addition to the hosepipe ban, people are being encouraged to take short showers instead of baths, use a bucket to wash their cars, and not to use paddling pools.
Manx Utilities chairman Dr Alex Allinson said the measures were needed to guarantee the water supply.
He said: "We don't have the hosepipe police but we're sending out a message to conserve your water and take this seriously."
Chief Forecaster Adrian Cowin said: "There is only a 40% probability of near normal rainfall for the next three months and a 35% probability of below normal rainfall.
"To be quite honest even normal rainfall would not cut the mustard to help us out in this situation."
The crackdown will remain in place until further notice.