Peel Cathedral: Vandals target grounds of Isle of Man cathedral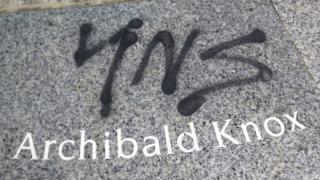 A continued spate of vandalism at the Isle of Man's cathedral has been condemned by police.
A force spokesman said vandals have sprayed graffiti in various locations around the grounds of Peel Cathedral in recent days.
Last week that a prominent sculpture was broken, turf damaged and other items disturbed.
Anyone with information about any of the vandal attacks is asked to call the Peel Station.
The cathedral is the mother church of the Diocese of Sodor and Man - the smallest in the Church of England.
The original cathedral of St German was inside the walls of Peel Castle.