Isle of Man TT 2018: Newcomer Adam Lyon, 26, killed in crash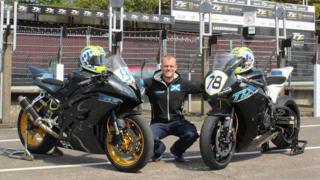 A motorcyclist competing in the Isle of Man TT for the first time has been killed in a crash in his second race.
Adam Lyon, who earlier said it was his "dream" to race in the TT, died near the 28th mile of the Mountain course during the Supersport 1 race.
The 26-year-old, of Helensburgh, Argyll, is the second rider to be killed during this year's event.
Race organisers ACU Events Ltd expressed "their deepest sympathy" to Mr Lyon's family and friends.
Mr Lyon wrote in a Facebook post ahead of the event: "It's all getting very real now but I cannot wait.
"Big thank you to everyone for the support and helping me achieve this dream."
Manx racer Dan Kneen, 30, was killed in a crash during Superbike qualifying on Wednesday.
Rider Steve Mercer was also badly injured and remains in a "stable" condition following a collision with a car on the Mountain Course.