TT 2018: Man 'lucky to escape jail' for riding on closed TT course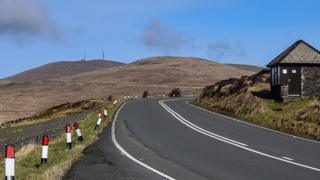 A visiting motorcyclist has been fined after admitting riding his bike along closed roads at the Isle of Man TT.
Jason Horn, 44, from Stoke-on-Trent, admitted overtaking the roads open car - which checks the road before it is re-opened to the public - following Tuesday's practice session.
Magistrates fined him £400 with costs of £50 at Douglas courthouse.
The court heard Mr Horn handed himself into police after seeing a publicised appeal about the incident.
Speaking after the sentencing, he told Manx Radio he was lucky not to have been jailed.
Following each practice session and race the TT course is reopened to traffic by the official car displaying a "Roads Open" notice.
Mr Horn said: "I will be honest the only reason I haven't been jailed today, and the court have made that perfectly clear to me, is that the sign on the car was not illuminated. That was partly the reason.
"I also believe my truthfulness and my honesty has gone in my favour.
"I've done wrong and I've paid the fine."
On Tuesday a 67-year-old from Yorkshire was jailed for four weeks for walking onto the closed TT course.
Sgt Reed said "robust action" will always be taken against anyone disregarding TT road closures.