Boy, 15, injured in 80ft Isle of Man cliff fall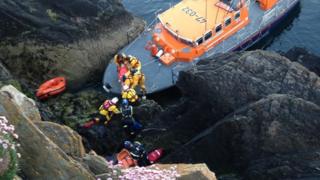 A teenager has been seriously injured after falling 80ft (24m) from a cliff near an Isle of Man lighthouse.
The boy, 15, fell on to rocks at Douglas Head, with coastguards responding at about 20:08 BST on Monday.
An RNLI spokesman said the boy was "semi-conscious" when they found him and was taken to Noble's Hospital.
His injuries were said to be "significant" but no further information has been released.
RNLI Coxswain Nel Corran said calm seas helped them safely approach the rocks and transfer the boy to the lifeboat.