Police operation to halt TT bike thefts in Liverpool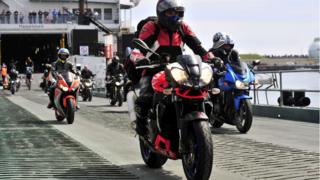 Motorcyclists travelling by ferry for the Isle of Man TT races are being promised help from police to protect their vehicles from theft.
In 2017, there were 22 reports of motorbikes being taken from outside hotels in Liverpool city centre in the lead-up to the event.
More than 40,000 bikers are expected to travel to the festival with many travelling by ferry from the city.
Merseyside Police are also teaming up with local hotels to raise awareness.
"This operation is designed to reassure race-goers that we are deploying resources in the right places to ensure that would-be thieves are disrupted ahead of what promises to be a great TT event," said Sgt Dave Yorke from the force's Matrix Roads Policing unit.
"Officers will be on the ground, and local businesses and hotels are working alongside us to ensure that CCTV coverage is in place."
"Working together, we can ensure that bikes are kept safe and secure in Liverpool, and I can assure people that we will rigorously pursue anyone who attempts to steal any vehicles at this or any time".
The first practice session for the TT will be held on Saturday 26 May.
Protect yourself and your bike:
Use a good quality lock, or two, and always park in conspicuous and well-lit areas
If riding in a group, lock your bikes together overnight
Don't park in the same place every night - vary your parking location
Consider fitting a forensic marking system