Twenty lambs and ewes killed in Manx dog attacks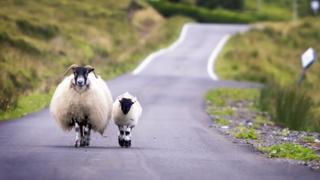 More than 20 lambs and ewes have been killed in dogs attacks in the Isle of Man in recent weeks, police have said.
Isle of Man Police said the attacks happened in the area of Baldrine with several injured ewes needing to be put down.
A force spokesman said it was "vitally important" during lambing season to keep dogs on a lead and under control.
He said more than 60 separate incidents of dogs worrying livestock had been reported to police since 2015.
"Sheep are very sensitive animals and the presence of a dog can cause stress to the animals resulting in their death," he said.
Sgt Andrew Reed added that if a dog is identified to be worrying livestock, "the keeper and any person in charge of the dog at that time can face a fine of £2,500 and a court can make order for the dog to be destroyed".
Anyone with information about the attacks has been asked to contact police headquarters.