Great tits found nesting in Isle of Man postbox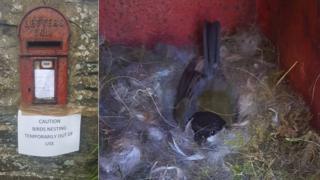 A village postbox will remain closed until great tit chicks fly from the nest which has been set up inside it, the Isle of Man Post Office said.
The Post Office has asked villagers to use alternative postboxes while the chirpy visitors are nesting in the Ballaterson box in Ballaugh village.
A spokeswoman said: "We'll keep it closed until we're happy the chicks have left completely."
The nest is a cup made from moss, grass and down, and lined with feathers.
Great tits are the largest of the European tits - they have adapted over the years to thrive in man-made habitats.
The Post Office's Leigh Cadwallader said workers will regularly check to see when the birds have flown the nest.