Beach cleaner Bill Dale awarded Tynwald's highest honour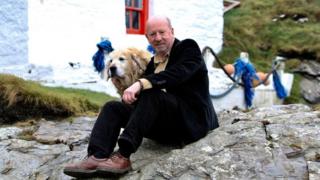 A "selfless" beach cleaner is to receive Tynwald's highest honour for "outstanding contribution to Manx life" after members gave unanimous support.
Beach Buddies founder Bill Dale, from Andreas, was put forward for the award for his work to raise awareness of the harm caused by marine rubbish.
It is the highest honour the Manx parliament can bestow on an individual.
Mr Dale, 67, said: "It's a wonderful endorsement of everything [our] volunteers have achieved in 11 years."
The journalist established the charity in 2007 to make the Manx coastline "the cleanest in Europe" and organises more than 200 beach cleaning events every year.
With help from 10,000 volunteers, it is annually responsible for collecting more than 200 tonnes of rubbish.
Speaker of the House of Keys Juan Watterson said Mr Dale's charity is a "true community organisation supported across the Isle of Man".
In March 2016, the Isle of Man became the first entire island nation to be granted Unesco's biosphere status, which recognises "outstanding natural landscapes".
Mr Watterson said Mr Dale's charity "contributed massively" to the island being officially recognised as one of the best places in the world to explore nature.
Mr Dale will receive his honour in St John's - where he grew up - on Tynwald Day (5 July).
"I count it as my good fortune and privilege to be the person on this special island to represent the community and show how much we love and care about our environment and wildlife," he said.
"We are setting standards which are now being recognised around the world."
Mr Dale received the British Empire Medal (BEM) in the Queen's New Year Honours List in 2017 for services to the Manx marine environment.
Previous recipients of the Tynwald Honour
•2007 Norman Alexander Sayle RI TH - Artist and Teacher
•2008 Harvey Briggs TH - Farmer and Journalist
•2009 Ian Qualtrough JP TH - Businessman and Entertainer
•2010 Dr Brian Stowell RBV TH - Manx Gaelic Teacher and Broadcaster
•2011 His Honour Thomas William Cain CBE QC RBV TH - Conservationist and Constitutionalist
•2012 His Honour John William Corrin CBE QC TH - Charitable work and Constitutionalist
•2013 Nadine Crowther MBE TH - Charitable work with Hospice
•2014 Hector Duff MM BEM TH - Public Service and Charitable work
•2015 Geoff Karran MBE TH - Public Service and Charitable work