Isle of Man's Castle Mona hotel sells for £1.21m at auction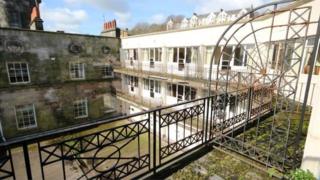 A Manx hotel, once home to a duke but left empty for more than a decade, has sold for £1.21m at auction.
The 98-bedroom Castle Mona hotel was built in 1801 but closed in 2006 and has since fallen into disrepair.
Owners The Sefton Group Plc said last month that a previously agreed sale had fallen through, and that the Douglas hotel would be put back on the market.
Confirming the latest sale, auctioneers Lambert Smith Hampton said there were "about 70 bidders" for the property.
Spokesman Simon Rignall said: "We had a very realistic reserve on the property and we came into the room expecting quite a few bids - we were right."
The buyer's identity or plans for the imposing seafront building have not yet been disclosed.
The Castle Mona Hotel was built as a home for the fourth Duke of Athol, who was a governor of the island, before being converted into a hotel in 1835 after his death.
It was previously sold by Skyland Investments to the Sefton Group in 2007 for about £4m and had been back on the market since 2011.