Manx number plate MAN-1-N sells for £40,000 at auction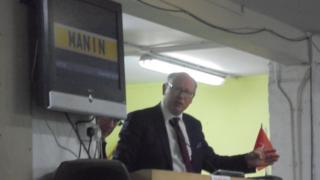 A distinctively Manx number plate has sold for nearly £40,000 at auction.
The cherished registration MAN-1-N (Mannin is the Manx word for the Isle of Man) fetched £39,220 when it went under the hammer at auction in Douglas.
A spokesman for Chrystals Auctions said it was an "incredible result", with two local bidders battling it out.
The winner paid 10 times the reserve price, which had been set between £4,000 and £6,000. Conventional number plates cost just £25.
The record for a Manx number plate was set in 2009 when the first vehicle registration plate issued on island was sold for £100,000 at auction.