Manx residents call for better road safety and 'traffic-free Sundays'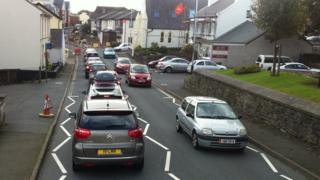 Manx residents have called for "more road maintenance", "improved driving tests" and "traffic-free Sundays" in Douglas to improve road safety.
The suggestions came in response to the government's Road Safety Challenge.
The survey was launched after police revealed there had been 42 road deaths on the island in four years.
A Manx Police spokesman said there had been over 180 ideas and almost 500 comments, which would feed into an "ambitious road safety strategy".
Among the other responses received, one person described the island's roads as "just terrible" with "deep holes" and "poor surfaces", while others asked for a review of speed limits and "roundabout awareness training".
The police spokesman said the force and government officials would now work through the ideas "alongside those suggestions already made by professionals working within the field of Road Safety and Roads Policing" to form a new strategy for the island.
A government spokesman said anyone who was concerned about a road defect could report it directly to the highways division using a form online.