'Selfless' beach cleaner 'should receive highest Manx honour'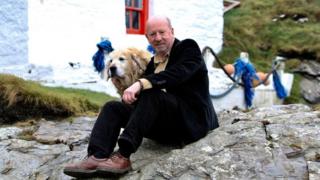 The founder of an Isle of Man beach-cleaning charity has been recommended for the highest Manx honour by the Tynwald Honours Committee.
Bill Dale, from Andreas, has been put forward for the Tynwald Honour for "outstanding contribution" to Manx life for his work with Beach Buddies.
The 67-year-old journalist established the charity in 2007 to make the Manx coastline "the cleanest in Europe".
His charity organises more than 200 beach cleaning events every year.
With help from 10,000 volunteers, it is annually responsible for collecting more than 200 tonnes of rubbish from Manx beaches.
And his ongoing education programme in schools has become part of the curriculum.
Mr Dale received the British Empire Medal (BEM) in the Queen's New Year Honours List in 2017 for services to the Manx marine environment.
A Tynwald Honours Committee spokesman said the latest award recognises his public service to the Isle of Man and, in particular, his selfless work on his volunteer beach-cleaning organisation.
"Mr Dale would be a very worthy recipient," he added.
Members will be asked to approve the Tynwald Honour in this month's sitting on 15 May with a view to it being presented on Tynwald Day (5 July).
Amongst the nine men and one woman who have received the award since 2007 are artist Norman Sayle, Manx Gaelic teacher Brian Stowell and World War Two veteran Hector Duff.
The founder of the Isle of Man's hospice Nadine Crowther is so far the only female recipient.
Previous recipients of the Tynwald Honour
•2007 Norman Alexander Sayle RI TH - Artist and Teacher
•2008 Harvey Briggs TH - Farmer and Journalist
•2009 Ian Qualtrough JP TH - Businessman and Entertainer
•2010 Dr Brian Stowell RBV TH - Manx Gaelic Teacher and Broadcaster
•2011 His Honour Thomas William Cain CBE QC RBV TH - Conservationist and Constitutionalist
•2012 His Honour John William Corrin CBE QC TH - Charitable work and Constitutionalist
•2013 Nadine Crowther MBE TH - Charitable work with Hospice
•2014 Hector Duff MM BEM TH - Public Service and Charitable work
•2015 Geoff Karran MBE TH - Public Service and Charitable work