Manx Youth Games: Some 1,200 children take part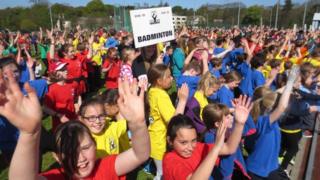 The 17th Manx Youth Games has kicked off with about 1,200 participants.
The games are the Isle of Man's largest sporting event for children. They compete in sports including cricket, swimming and football.
Minister for Education, Sport and Culture Graham Cregeen said it was a "highlight of the sporting calendar".
He said the event at Douglas's National Sports Centre had "sportsmanship" at its heart, but was also used to "identify emerging talent".
The games, which are for those in school years two to 10, see children represent five regions of the island - North, South, West, Douglas North and Douglas South.
In the event's official programme, Mr Cregeen said the one-day event was about the "competitors, who will have a day to remember and an experience that will encourage them to stay involved in sport and join a local club, helping them to enjoy the benefits of regular sport".