Isle of Man inflation rate 'higher than many workers' salary increases'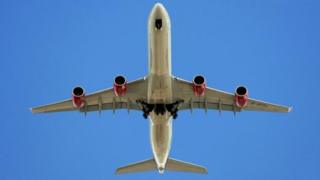 Spiralling air fares are continuing to drive up the rate of inflation on the Isle of Man, said the Manx government.
Although the inflation rate dropped to 4% in April, down from 4.4% in March, the cost of flights has increased 35% in 12 months.
During the past year, Manx residents have seen increasing rents along with higher, oil and gas prices.
Figures show a 5% rise in general household bills. In better news, internet subscription rates fell by 7%.
The island's current rate of inflation is considerably higher than in the UK, where it currently stands at 2.3%.
Chris Thomas MHK said there is growing concern for islanders whose wage increases are not keeping pace with inflation.
"Finance and E-gaming employees are paid very well but workers in lower paying sectors like catering, care and construction just aren't keeping up," he continued.
"We are trying to bring down water and sewerage rates which will help, and we are currently looking at other ways to help lower earners."
The 2017 earnings survey showed that while the island's average wage of £760 a week was higher than the UK (£662), 14% of islanders were earning less than the Manx Living Wage (£8.61 per hour).
Last year Tynwald introduced a Manx Living Wage but while companies are legally obliged to pay the minimum wage, it is up to managers to decide whether to offer the higher living wage.
"In the longer term we are planning to attract more manufacturing and engineering firms to the island," continued Mr Thomas.
"Providing the right training will make sure our residents are well-placed to get some of the good jobs."