Public asked to vote on the Isle of Man's national dish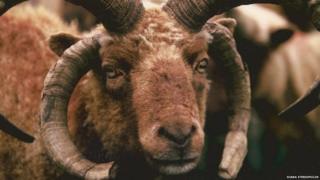 Queenies, kippers, Loaghtan, Manx beef... or chips, cheese and gravy. Which should be the Manx national dish?
The public are being asked to put forward their ideas on which foods should be named as best representing the island's cuisine.
The Manx government wants people to vote for their choice of local produce and came up with a few suggestions.
The winning idea will be prepared by a chef during a live show at the annual food festival in September.
It comes after calls for an official day to recognise the "national dish of the Manx" - cheese, chips and gravy.
In January, an online magazine declared the last Monday in January "National Chips, Cheese & Gravy Day" because the "beloved dish" had previously been "overlooked".
At the time, Gef the Mongoose, established to "celebrate the weird and wonderful", listed a number of local takeaways offering the food at a reduced rate to celebrate the new tradition.
But the Manx Department of Environment, Food and Agriculture said the latest project is about finding the food which "best symbolises" the Isle of Man.
A spokesman listed kippers, queenies, Loaghtan, Manx beef and lamb as well-known examples of local produce.
"We are asking the public which product they feel best symbolises Isle of Man food and drink and we will then create a tasty dish around it, which people can also make at home," he added.
Voting can be completed online - the deadline is 13 August.