Curraghs Wildlife Park fire: Lemur enclosure to be rebuilt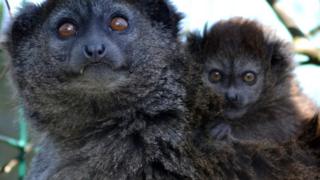 A lemur enclosure destroyed in a fire at a wildlife park on the Isle of Man will be rebuilt later this year.
The wooden structure was burnt to the ground during the fire at the Curraghs Wildlife Park on 25 April.
Two of the four Alaotran Gentle Lemurs, a critically endangered species, were rescued by keepers but the two younger animals were found dead.
Park manger Kathleen Graham said: "Replacement plans have already been drawn up for a new metal enclosure."
She added: "The two surviving lemurs are currently being cared for in the park hospital but they will soon need to be outside again, we need to move forward.
"It's been a very difficult time and the lemur keepers in particular have been devastated, but there are other animals to look after so we have had to pick ourselves up very quickly."
The newly-built lemur enclosure had housed four lemurs - a breeding pair and two offspring, Georgia and Nina. They were aged three and one respectively.
"We think the older pair ran out of the enclosure when the fire started whereas the younger pair went up into the trees and later succumbed to the smoke," said Ms Graham.
"Members of the public have been very supportive with their messages of support, gifts and offers of financial help.
"Hundreds of pounds have already been donated by members of the public through our charity.
"It's been very humbling and it will all go towards the new building, which will probably be made of metal this time."
Alaotran Gentle Lemurs are on the International Union for the Conservation of Nature's (IUCN) critically endangered list and are threatened with extinction.
It is thought there are less than 2,500 of the animals left, primarily in a small region of their native Madagascar.