Graphic abortion images used in protests are legal, say police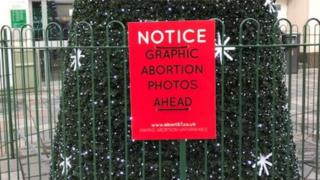 Graphic images displayed in public by a pro-life campaign group on the Isle of Man "may be distasteful but they are not illegal", Manx police have said.
Posters of aborted foetuses have been used by Abort67 in its protest against plans to reform the Manx abortion laws.
The legislation would allow women to have terminations within the first 14 weeks of their pregnancy, with other restrictions also being eased.
A police spokesman said the protesters "have a right to freedom of speech".
He added: "This is set out in the Human Rights Act 2001, the state cannot easily interfere in the exercising of this right, unless protesters commit specific criminal offences. The protests have so far stayed within the criminal law."
Several pro-life and pro-abortion protests have been held on the Isle of Man during the long-running parliamentary debate of the Abortion Bill 2017.
On Tuesday, the plans were approved by the House of Keys by a margin of 22-2. Members of the Legislative Council will now consider the bill.
Under existing Manx law, abortions can only be carried out if a pregnancy is the result of rape or because of mental health concerns.
'Highly disturbing'
Several complaints were made to police about Abort67, some from parents who said the group's posters had left children "distressed".
One mother told the BBC: "What about my child's human right to walk down the street without being upset by these horrific images?"
Abort67 said people found the images "highly disturbing" because "abortion is highly disturbing".
A spokesman added: "If abortion is so horrendous that it can't be seen, why is the House of Keys making it available on demand?"
The Manx police added: "Should the nature of the protests change, or should the tactics being used by protesters alter, then the police reserve the power to intervene and take action."